July is a fabulous month for celebrating independence. Of course, there's July 4th in the US, and on the 14th there's Bastille Day in France. But, the celebrations don't stop there. Citizens in Canada, Belgium, Belarus, Burundi, Mongolia and from other corners in our big and beautiful world come around during this month to raise a toast to the wonderful state of freedom.
Independence Day, or however it's called in each respective country, is not a significant national holiday for nothing. National independence is not only bar-b-ques and fireworks. No, what it's all about is self-determination. And, self-determination is about having the freedom to make decisions for oneself without being bound to outside direction or being held back by external constraints.
Your freedom, our muse
This collective principle of self-determination, independence, and freedom is the driving force and inspiration behind everything we do at Wochit.
We believe in the power of video and how every organization these days needs video to effectively engage and forge trusting relationships with its target audience – whether the organization is a corporate enterprise, a publisher, marketplace, franchise, educational institution, NGO, or what have you.
Your freedom to create amazing videos independently and to also power your staff and local offices or agents with the freedom to create, scale, and unleash professionally spectacular, on-brand videos from scratch in minutes is our muse.
The sweet combination that will make you shine
So, how do we make it happen? It boils down to a sweet combination of some fancy video footwork, check it out:
Interface: an intuitive and super easy to understand user interface that enables any user with any level of video experience – including none whatsoever, to create videos that meet your needs and your viewers' expectations.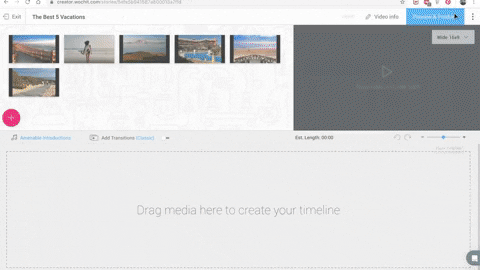 Multiple languages, so no matter where you're at or where your audience is located, you can speak to them and be understood.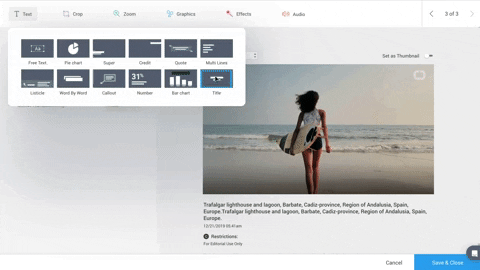 Content library with over 200 million pre-licensed video assets and the ability to fully integrate with your existing asset library.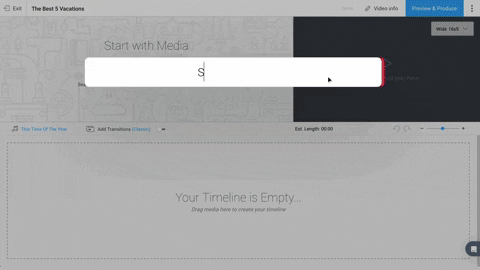 Automation that leverages your content and/or data, pre-rendering it into videos, saving you time, and increasing your ability to scale your message with ease.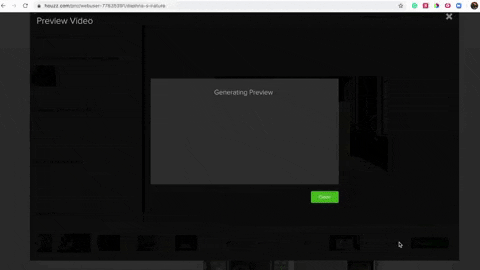 Centralized on-brand video templates that look nothing like the same old same old, so you can articulate your own unique brand voice and bring it to life in alignment with your organization's style guidelines.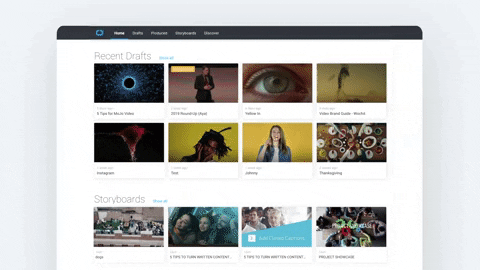 Seamless integration with your platforms and workflows.
Centralized video analytics to learn what works, what doesn't, and where you can optimize. 
Setting off your own video fireworks
In addition, with nearly a decade of experience in empowering video makers all over the world and across multiple industries, who are creating over 20,000 videos every month with Wochit, we have identified some of the key elements that bring fireworks to any video experience.
Here are just three to get your curiosity piqued:
Breaking the video bank mold and ensuring differentiation and memorability by using images and video clips that you can't find on every video bank. This is also critical for our sense of independence and having the freedom to produce what you want without being forced to choose from a limited resource of shots that don't align with your story, message, and style.
Eye-catching on-screen text (via text overlays and splashes), which are critical for making sure that your messages are conveyed clearly and accurately. But, it's critical to do it right, namely:
Word count should be low, so viewers don't get overwhelmed by the amount of text on-screen at any one time.
Text time on screen should be long enough for the audience to read the text all the way through before moving on to the next scene.
Visual engagement, by making the text it stand out with colorful, bold text that delivers a great esthetic experience.
Brand your text with your brand colors and fonts to ensure brand alignment.
Animation of the text in eye-catching, yet subtle ways for further deepening engagement.
Branded transitions, for when moving from one shot or clip to the next. Adding a branded touch to the transitions can distinguish videos in an incredibly effective way. Transitions can be an instant scene or image change, a fade, fade to black, dissolve, pan from one person to another, or any digital effect.
Let my people go create stunning videos
No one can deny it. Freedom and independence are at the heart of our drive for self-fulfillment and actualization – at the very top of Maslow's hierarchy of needs.
And, at Wochit, we are proud to play our part in at least making your video universe one that is filled with limitless opportunities for actuating your freedom and independence.
So, whether you're in media, or are an enterprise, NGO, franchisor, marketplace, or content agency – we've got what you need to create the videos of your dreams with ease, speed, and fireworks.
Drop Us a Note and Let's Get Started